Inspired by the works of  Climate Outreach and concocted to uncover new expression and experiences as we write daily a chapter of the new story; our program is deliberately light during the day whereas it intensifies in the evening ! For us, it is important to link collective work and leisure moments, brainstorming sessions and empty spaces.
Breathing periods within the program are very important; they bring calm and focus into the experimentation. They also give a great deal of room for the emergence and the unknown.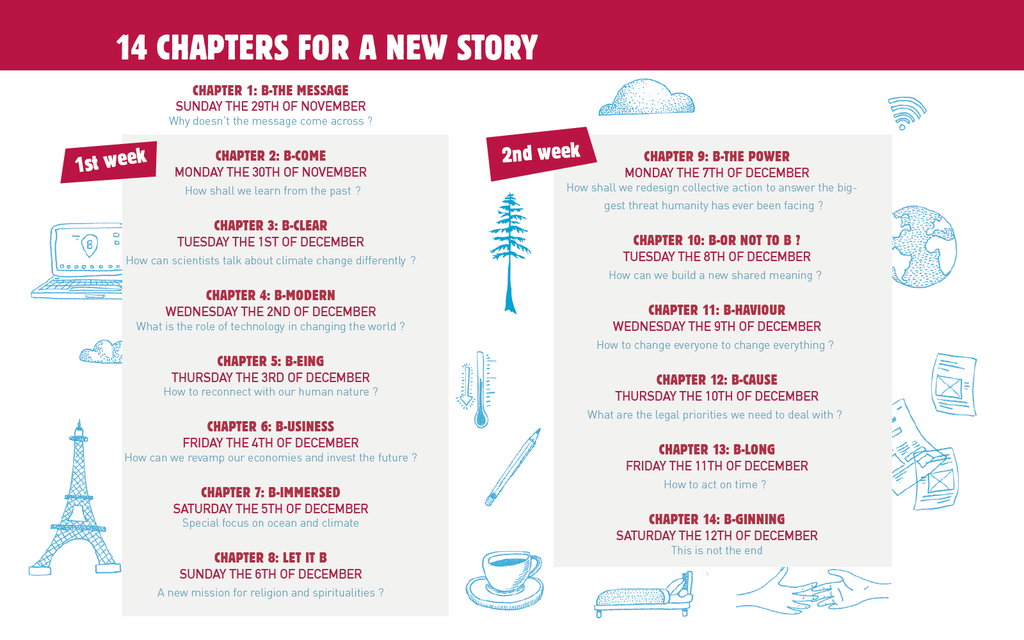 A key moment: Place To Brief
It is THE climax of Place To B! Place to Brief is a sort of brand new Webcast program/ every evening a briefing takes place on the main stage from 6 to 8 pm at Belushi's Gare du Nord.
Place to Brief : Brief as briefing, short, and breathing. A title that summarizes our ambition!
Covered by an experienced team and broadcast live on our site, this two hour show will split into different sequences such as a COP21-Le Bourget debriefing, conversation between the actors of the new word; artistic performances (improvised skit, poetic wrap up); multimedia surprises…
You will find special guests and artists…
Free admission, limited seating available.
Online registration on program page

Focus on the evenings
At Place to B, being positive and optimistic is a way of life. Fresh and informal moments are part of the experience – They bring joy and entertainment to the experience.
After 9pm, Place to B will turn into a happy hive ! We will do our best to ensure that each participant enjoys an informal and unique time with outstanding speakers and community – and also can attend a memorable artistic moment !
During these evenings at Place To B, you could:
do: network, chat, grab a beer, pitch a project, play a game, eat something correct, enjoy the show, get involved in the performance…
feel

 happy, overjoyed, impressed, thrilled, excited, inspired, grateful, connected…

appreciate 

concert, movie broadcast, theatrical improvisation, musical, jam session, DJ set, thematic party…
Every night will be different. Come and share the experience with us!
See every detail of the two week program page.