A look behind the curtain at COP22 (the global climate conference)… and a call for leadership!
One might imagine that the COP22 global climate summit would be one of the greenest places on earth. After all, this is the 22nd year in a row that the UN has convened the global community to address the threat of climate change and catastrophic environmental degradation. So it might seem fair to assume that for this conference, some real consideration and commitment to sustainability would have been made.
I'm sad to report that from an environmental perspective, despite a few commendable efforts, the event is far from good. Now to be fair, it's not worse than any other massive, monstrously wasteful conference or trade show that attract tens of thousands of people over a week. Even if it's a little better than the worst, it's still grossly unsustainable and the lack of real leadership is truly disappointing.
From the very first moment you enter the COP, it's clear that this is not a place of deep resource awareness. Proudly handed out at registration, are thousands of single "day use only" badges in extra large plastic holders, with chemically-colored, nylon (ie. plastic) lanyards. Once accredited, you enter the conference's massive tents the size of airplane hangars, (that were apparently imported to Marrakech from Europe for the event) lined with shipping container-sized, AC/heating units keeping the uninsulated tents acclimatized.
For those who haven't been to a COP, it's not necessarily what you might imagine. I've written about this in the past, explaining that although this is where the "climate conference" takes place, what you see on the ground is a huge "green business" trade show. This year in Marrakech, it will draw an estimated 44,000* people. The official climate negotiations are only front and center for announcements and press conferences. The rest of the time, it all takes place behind closed doors. What everyone else sees (alongside the countless talks, panel discussions and side conferences), is business.
Just like any trade show, there are booths big and small spread over numerous halls where government representatives, eco-activists and journalists hurry from project announcements to speaker panels. Environmental consultants and green business representatives sit around eco-styled, faux-forest-themed tradeshow booths, discussing "green investments" and "carbon offset trading" strategies.
With the exception of the inconsistent but clearly conscious efforts made in the food service area (with many decent non meat options, minimal packaging that was for the most part reasonably compostable, and an effort to provide reusable cutlery), there is almost nothing that would let a casual observer know that this place had any emphasis on sustainability or environmental awareness.
Every conference table in every talk and panel discussion has the obligatory rows of plastic bottled water for the speakers… and while we're on the topic of water, the lack of a single drinking fountain anywhere on the conference grounds where one might refill a reusable cup or bottle, kind of boggles the mind.
There was one particularly ironic touch of backwards thinking at this year's COP that may have looked green-ish but was in fact as asinine and honestly disheartening in it's eco-blindness as anything I have ever seen. In the mail halls, the standard furniture in every booth was a set of cardboard tables and chairs. Really?!? Disposable tables and chairs? Yes. But hey, at least they were uncomfortable and generally flimsy.
Clearly the look of natural "ecoy-ness" blinded the designers to the blatant stupidity of the choice, but it just goes to show how little real awareness there was on behalf of the organizers in regards to sustainability.
Now to be fair to the planners of this mess (who declined to provide comment for this article), they aren't actually any worse than their eco-event peers. I attended multiple, fancy "side conferences" as part of COP and this level of obliviousness was par for the course. At the World Climate Summit, attended by UN and government representatives of the highest level, lunch was served with literally thousands of disposable, plastic, single-bite dishes of seafood, red meat, processed candy and every other kind of unsustainable food choice you could imagine, all served with plastic cutlery, plates and cups… I don't think they they could have made it less sustainable if they tried!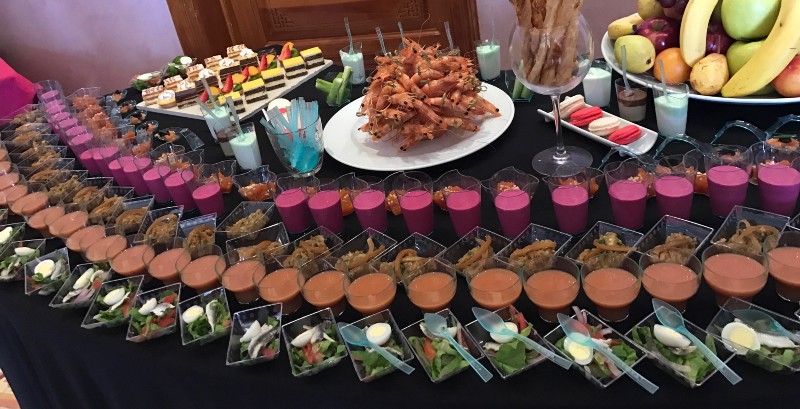 I am not writing this as a hater, but as someone who thinks there is a huge missed opportunity here. The UN and host country spend millions of dollars each year to create this Convening Of Parties (COP), as a place where the world can come together to discuss this massively important subject. There is a value in this conference that extends beyond the substance of its specific outcomes. These are symbolic gatherings and an opportunity for practical leadership. It's clearly not easy to make an event like this fully sustainable, but how can the UN and world leaders expect companies and countries to do better, when they themselves are setting such an underwhelming example?
Marrakech, as a host city, and Morocco in general, is clearly doing a lot to be a regional leader in renewable energy and general environmental awareness. They should really be commended for the projects they are engaged in, both big and small. From a brand new bike share program launched for the COP to having the largest solar plant in the world, they are clearly taking real action. They even have an amazing national program to connect environmental values with the Koran, teaching religious leaders how to disseminate eco-conscious behaviors to their followers, and to give the subject a sense of moral weight.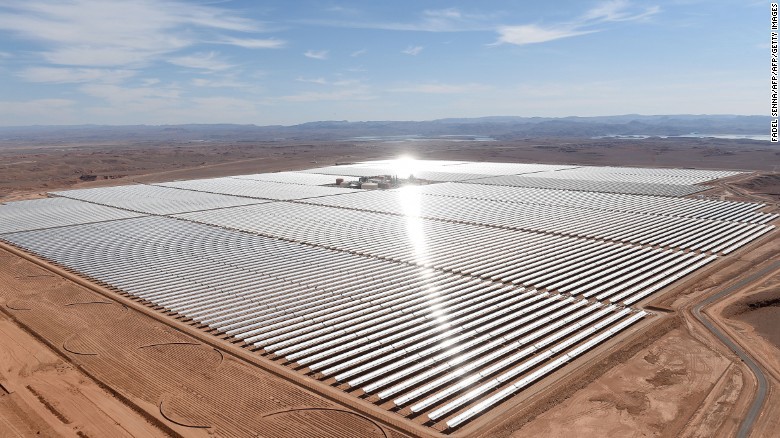 I also don't want to undermine the UN's overall excellence in bringing awareness to climate change and promoting the efforts to get the public worldwide to push their leaders in the direction of bold and immediate climate action. They are not the bad guys. But this is a painful, and easily correctable blindspot, right in the middle of their cornerstone climate event.
Tackling imminent and catastrophic global climate change has not proved to be easy. It is going to take a level of awareness on every level of human society. One of the things we need to do is to hold our institutions accountable for their actions and press them for change at every opportunity that we have.
Please tweet @UNFCCC telling them to #GreenTheCOP
*According to Sonia Mezzour, Moroccan Minister of Energy, Mines, Water and Environment