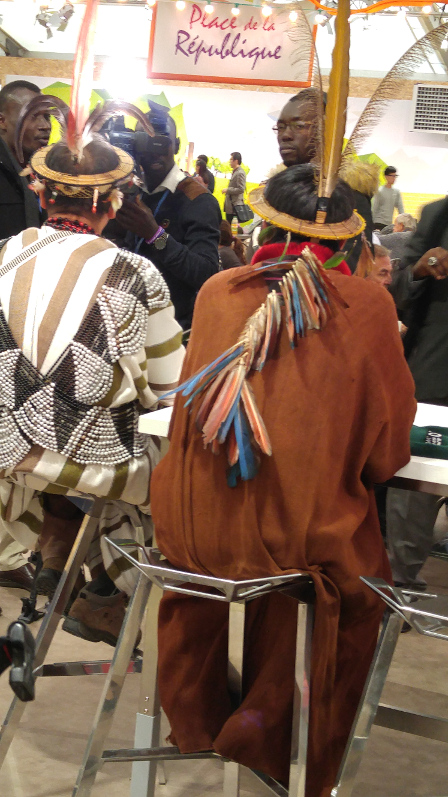 Four of the exhibits especially interested me: inspia, European Index for Sustainable Productive Agriculture; Sierra Club's Youth Coalition; Food and Agriculture Organization of the United Nations with Scout and Guide Programs; and a corner of the exhibition devoted to "Ocean Under Stress" coordinated by a number of NGOs.
inspia
As a gardener, I was especially interested in inspia's Best Management Practices (BMPs) concerning farming. All these ideas can be used by gardeners around the world as they provide a new attitude toward farming. Some gardeners are already modifying their gardening habits to to use the same BMPs as farmers. These practices all focus on soil, with this year, 2015, being the International Year of Soils. First, the practice emphasizes no soil disturbance. Just recently I was working with a group of gardeners in the US trying to rid their city garden of a most invasive weed. It's very difficult to think that this can be accomplished without disturbing the soil. Instead of pulling weeds, as has been the approach, we cut these weeds near their roots. Hopefully, the plant will die a natural death.
Second, the approach requires that the soil always be planted. This results in crop rotation, and a permanent soil cover. By planting wildflowers or rye or other ground covers when the land is not being used for farming (or gardening), birds, pollinators, and other species will also reap the benefits. The more organic matter in the soil, the more carbon storage. This step is also the most controversial one because, when the next crop needs to be planted, if the cover crop has not died back, it will need to be killed using a pesticide. Farmers, of course, know the BMP for pesticides and will use as little as possible. However, this step is worrisome. Gardeners concerned about the environment try to use as little pesticide as possible.
The final step in this approach (although each step can be looked at in different ways with different processes) is making sure that crop rotation occurs. Again, farmers are well aware of the need for rotating crops. Some crops provide more nitrogen to the soil. Other crops provide potassium and minor chemicals.
This approach results in preservation of water quality because of less erosion and no runoff. Also, as mentioned previously, it can lead to biodiversity. Finally, the impact upon the soil is quite positive. Decreased fuel consumption is seen because the field do not need plowing with this method. This process results in sustainable agriculture.
Sierra Club's Youth Coalition
A second booth interested me because youth were there talking about climate change. The Sierra Youth Coalition was staffed by several young adults ready and willing to talk about climate change. Sierra Club has four major concerns about climate change which call for more stringent goals than do the present negotiations. First, instead of the goals being reached by 2100, Sierra calls for the year 2050. Second, instead of a 2 degree limit, Sierra Club wishes to have a 1.5 degree limit. This group also wishes to make sure that "equity and justice" are included within the text (as opposed to the preamble). Similarly, and finally "loss and damage" should be addressed, not just mitigation and adaptation.
What struck me about this booth is the ability of these young people to discuss the climate change issues with conviction and with knowledge. No adult was nearby; these youth have developed strong voices at an early age. This commitment from the young is essential as the planet faces climate change issues.
Scouts and Guides
Another program featured in these booths is the Scout and Guide missions. Two young men were staffing this booth although they assured me that both boys and girls were included in the scouting programs. What was especially interesting is the Climate Change Challenge Badge that is an option within these two similar organizations.
The Food and Agriculture Organization of the United Nations worked together with Youth and United Nations Global Alliance to provide a wonderful book outlining the knowledge and behaviors needed to earn this badge. The book's sections provide insight into the badge's goals: Climate Is Life; Causes of Climate Change; Impacts of Climate Change; Solutions to Climate Change; and finally Take Action. Again, the emphasis is on youth understanding the complexity of climate change and working to find solutions in their own and their community's life.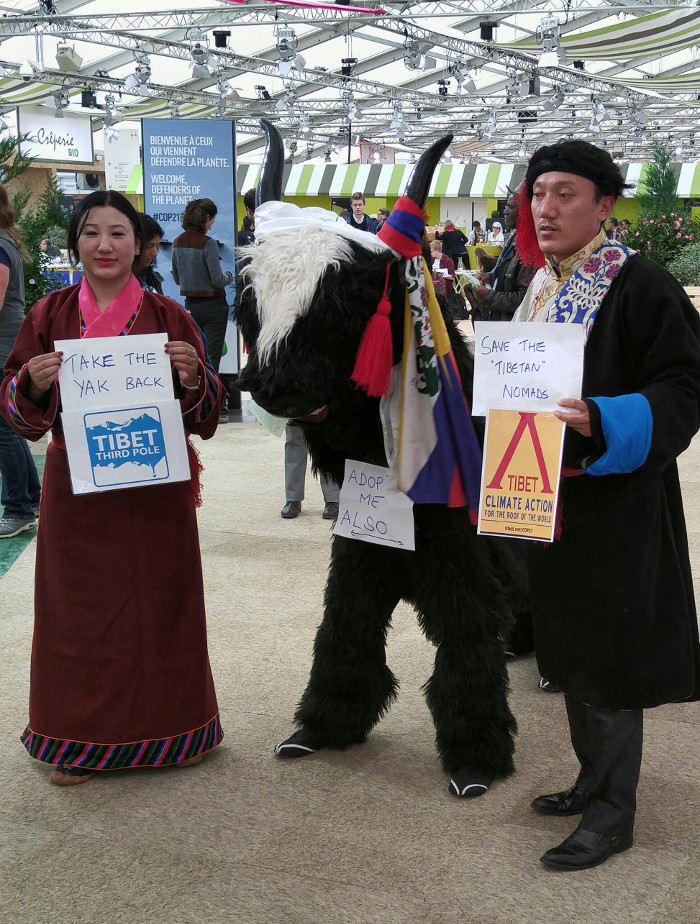 Oceans Under Stress
One entire corner, at least six "booths", focused on issues of acidification of our oceans. Having recently seen two videos that Phillipe Cousteau made and showed side by side, highlighting the degradation of the ocean in the last twenty years, I was interested in getting more specific information on this topic. Cousteau's films were made, the first around 1985 and the second around 2008, of the exact same spot on Looe Key, part of a major barrier reef off the Florida Keys. I have snorkeled there often. The contrast in the two visions of the same place were astounding.
First, the coral is dying, succumbing to coral bleaching. Second, the number of fish had decreased tremendously. Also, the number of species of fish had also changed radically. Cousteau pointed out that we have lost 49% of fish species world wide. At the exhibit here in Paris, specifics were given as to the stressors of ocean, including warming, acidification, and deoxygenation. Both the causes and results of each of these is examined as well as the impacts and feedback to climate. The information needs distribution and these ocean-related agencies are educating the public through this booth.
In sum, each visitor to COP21 needs to spend at least one day acquainting him/herself with the booths within the Green Zone. People have come from around the world to address specific issues, to educate others, and to share their experiences with the visitor. Take advantage of their knowledge and enjoy a day wandering the Green Zone.
Susan Nugent